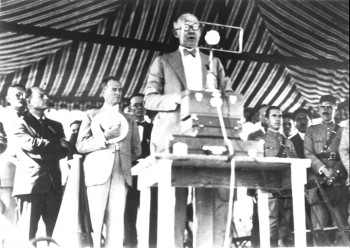 In September 2013, the El Paso International Airport celebrated its 85th anniversary. Transportation has been a consistent and important thread woven throughout El Paso's rich history. From the Camino Real (Royal Road) which connected Mexico City and Santa Fe, to the Butterfield Trail, a major stagecoach passage from St. Louis to San Francisco, El Paso has always been a major transportation center.
The creation of the Airport was encouraged by Charles A. Lindbergh on September 24, 1927 while visiting El Paso. In the wake of Lindbergh's visit, the El Paso Aero Club began drawing up plans for a municipal airport. A year later on September 8, 1928 at 1:30 pm, 10,000 El Pasoans turned out for the dedication ceremony of their first Municipal Airport. At the end of the ceremony, Mayor Thomason said: "Today, we drive another stake in the progress of El Paso. This city today becomes one of the country's future air centers."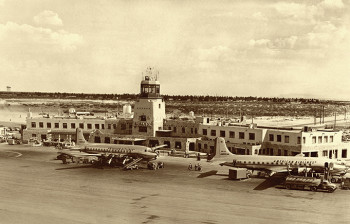 During its eighty-five years of operation, El Paso International Airport has always been at the forefront of the latest aviation technology. In 1968, El Paso was the first in the nation to have a 130 foot air traffic control tower. Once again in 2000, El Paso was the first Air Traffic Control Tower in the nation to operate with STARS radar system, a system that upgrades the air traffic control system and enhances the safety of the flying public.
El Paso International Airport has been fortunate to be linked to an impressive past by maintaining a portion of the Butterfield Trail on its property. El Paso is also on the cutting edge of the future by serving as the home of NASA's Johnson Space Center Forward Operating Location which was a training center for astronauts during the Shuttle missions. Astronauts practiced landings on simulated shuttle aircraft and were performed on a daily basis as preparation for flying and returning from space. Today the Forward Operating Location serves as a maintenance facility for NASA's T-38 trainer jet aircraft and the home of the Super Guppy Transport aircraft, the last remaining operational aircraft of its kind.